Sarmad Mahmood Qureshi, Vice President Operations at Avanceon Limited Sits Down with Qatar Tribune to Discuss the Future of Industrial and Automation Solutions in Qatar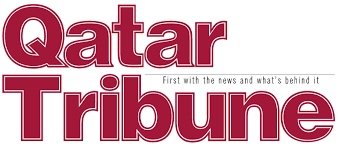 Doha, Qatar – Qatar Tribune, one of the region's leading and premier journalistic publications, has featured Avanceon Limited and Octopus Digital in its latest edition. Sarmad Mahmood Qureshi, Vice President Operations discussed Avanceon and its subsidiary Octopus Digital's potential and capabilities in achieving FIFA World Cup 2022 and Qatar's National Vision 2030.
The interview focused on Octopus Digital, its potential, capabilities and how it can improve operations and deliver energy efficient smart solutions to a number of sectors in Qatar. Speaking from Avanceon's new state of the art facility which includes a Staging & Testing capabilities in Ras Abu Fontas, Qureshi discussed the emergence of new technologies in the industrial and automation space.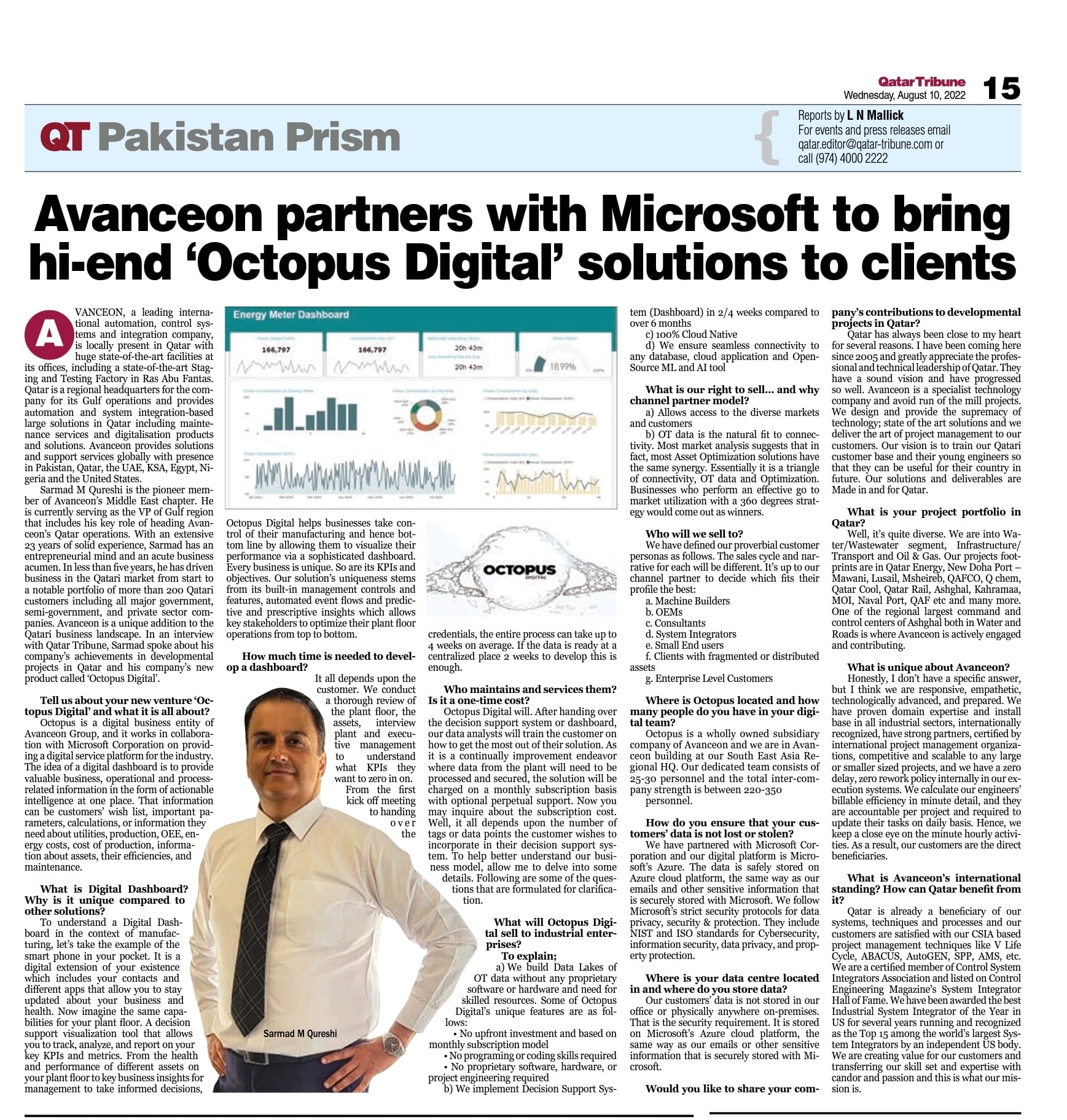 Qatar is a Regional Head Quarters for Avanceon Limited for its Gulf Operations, and it provides Automation & System Integration based large solutions which includes Maintenance Services and Digitalization products and solutions.
Read the interview in its entirety here on Page 15 – https://www.qatar-tribune.com/uploads/pdf/2022/08/10/qatartribune-20220810-1.pdf?ts=004524
To know more about Avanceon, contact sales@avanceon.qa and marketing@avanceon.qa
For Octopus Digital, email at support@octopusdtl.com
—End of Press Release—
About Octopus Digital – Octopus Digital is a newly formed entity under the Avanceon Limited umbrella. Octopus Digital helps businesses digitalize their manufacturing, supply chain and financial workflows backed by strategic and operational maintenance support services. In addition, Octopus Digital also provides decision support, actionable insights and business intelligence available 24x7x365 both as managed and unmanaged service on a multi-year monthly subscription basis. For more information about Octopus Digital, visit www.octopusdtl.com
About Avanceon – (PSX: AVN) – Avanceon is an industrial automation consultation and system integration entity in Pakistan, Qatar, UAE, KSA, and United States. The company follows an ethical, proactive, and sustainable approach to business. As a leading innovator within the automation industry, Avanceon provides state-of-the-art automation solutions on three continents. Established in 1984, Avanceon is committed to providing engineering excellence to its clients and partners. Providing end-to-end solutions, which include Design, Supply, Engineering, Installation, Testing, Commissioning, and Maintenance, Avanceon's executive management has extensive experience and insight within the automation and system integration industry. Avanceon is an ISO 9001-2015, 14001-2015, and OHSMS ISO 45001-2018 company holding certifications from TUV Austria and TRACE International. Find out more about Avanceon at www.avanceon.qa
---