Our ERP & Accounting Capabilities Just Took a Big Step
As a company's needs change, its systems should keep up with the pace. This is why it makes sense to partner with the best.
Avanceon will be implementing a company wide change in its ERP and Accounting system with Microsoft GP 2016R2. The new system is in the testing phase and will be launched soon.
At the moment the new capability is up on the test server and user interface is being tested for:
Web-client
PTE (Project Time and Expenses) – Online for Employee Expenses
Workflows for PTE (inclusive of email notifications and document attachments)
Here is how Microsoft GP 2016R2 will help improve ERP and Accounting systems at Avanceon.
Web Client Accessibility – Employee Expenses, Purchase Orders, Sale Transactions, Accounting Batches etc. along with email notification for approvals.
New & Improved User Interface – All new windows for data entry and inquiries/reporting.
All in one document view – Sale Orders, Purchase Orders, Inventory & Financial GL
Work Flows – Fully Automated workflows for submittal, approval/rejection and delegation 
Employee Expenses, Purchase Orders, Accounting Batches etc along with e mail notifications
Paper Less Data Entry – Attach Documents with Expense Claims. (scanned images), POs and all workflows. Scanned Images, pdf, doc, xlsx etc
Upcoming Enhancements – Improved collaboration with the use of Business Intelligence reporting. Integrated with other Microsoft products, e.g. Office 365, Microsoft Azure and Power BI.
New and Enhanced User Licenses – Avanceoners now do not need to wait for GP login due to limited user Licenses. The new system can now accommodate –
25 Full users,
25 limited users and
100 self-serve user licenses available.
Avanceon is a Gold Partner of Microsoft products and services. Having collaborated on a number of projects in the past, Microsoft and Avanceon have been in partnership for almost ten years.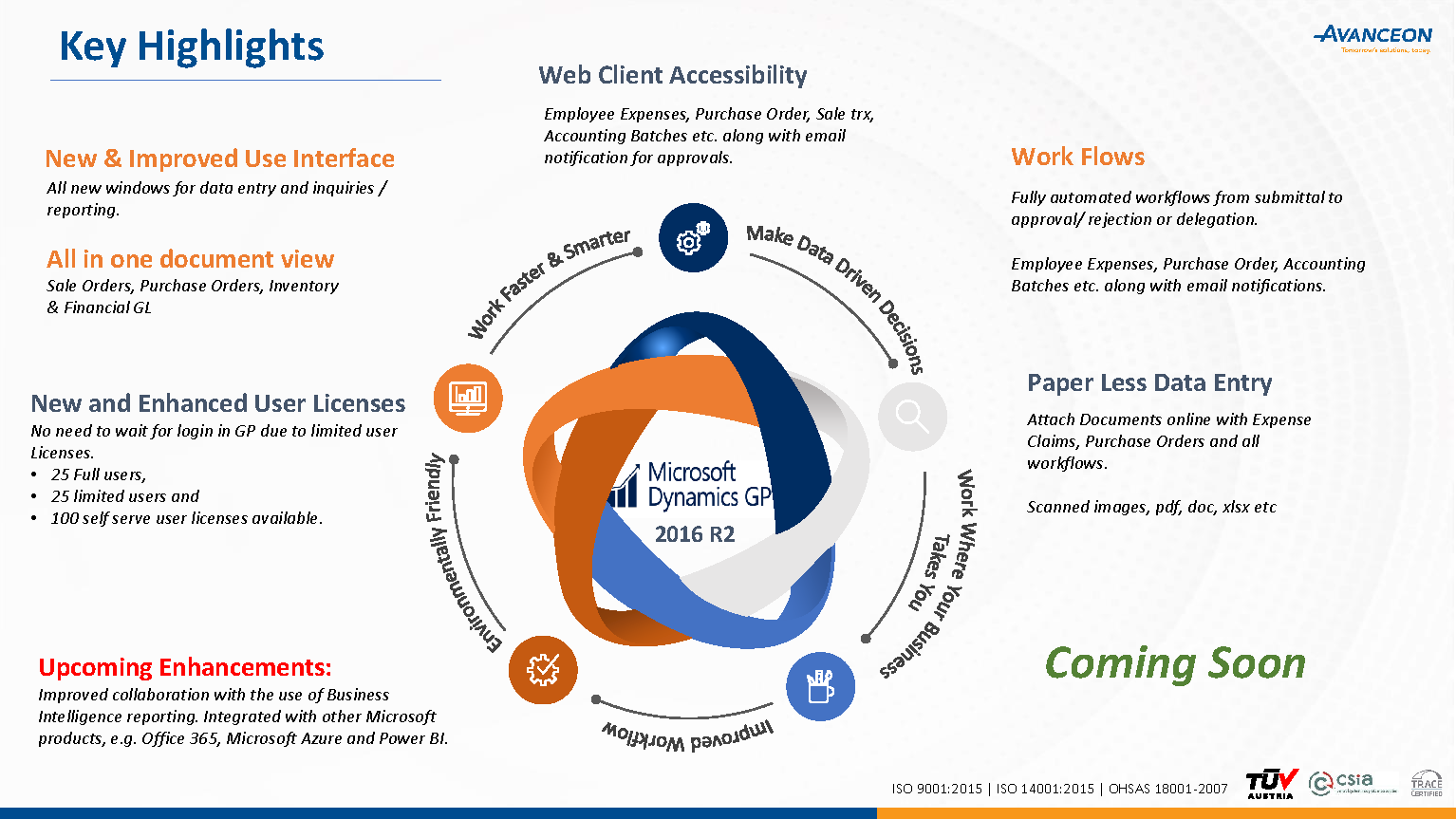 ---