Middle East – Schneider Electric has recognized Avanceon as its preferred Alliance System Integrator Partner for Water & Waste Water Projects in Middle East & Africa. Avanceon has been certified at Control System & SCADA levels for this elite program.
Schneider Electric's Alliance Integration Partnership Program is a strategic combination of innovative technology, domain expertise, and select system integrator partners, coupled with a solid interoperable architecture which ensures maximized performance, increased profitability and timely delivery of projects.
This recognition is a true representation of strong business relationships between Schneider Electric and Avanceon that offers business value for our clients, continuous training opportunities to broaden technical capabilities and expand Avanceon's expertise to build world class solutions for the Water & Waste Water industry.
Some of the key benefits of Schneider Electric's Alliance Partnership Program are:
Domain Expertise – Attain expertise to deliver greater end-to-end operational efficiency across the project lifecycle
Product and Solution Knowledge -Acquire extensive knowledge and skills through certification programs and build credibility and confidence with customers
Support – Receive support to deliver flawless project execution and continuous support throughout the lifecycle of customers' automation systems
Business Growth – Gain new business opportunities to provide customers with measurable operational profitability improvements, safely and efficiently
For more than three decades, Avanceon has been delivering state of the art Control and Automation solutions that have helped clients streamline their processes, improve their production, minimize downtime and maximize profitability in line with their KPIs. For Water & Waste Water projects, Avanceon has been consistently delivering reliable, efficient, sustainable and cost-saving process control and SCADA systems.
Sarmad M. Qureshi, Avanceon's Head of Middle East Operations commented
"Our astounding relationship with Schneider Electric is immensely growing from the last 15 years. Together, we are developing new Water markets and serving our clients with various products of Schneider Electric which also includes their partner AVEVA – Wonderware, this is indeed a moment of pride for Avanceon, and for our existing clients."
Madiha Khalfi, Global Director – System Integrators Channel commented
"We are very pleased and proud of the level of partnership and collaboration we achieved with Avanceon over the last few years. They were one of the first SIs to become a Certified Alliance partner in GCC and now again Avanceon is going one step further in our partnership program by achieving the prestigious status of Preferred Alliance Partner on Water and Waste Water projects. This comes as a recognition of the history and expertise of Avanceon working on solving Automation and Energy challenges with the key players of water industry in GCC. This status will also allow our teams to recommend Avanceon to the clients we are directly dealing with.
Congratulations to Avanceon team and looking forward to reinforcing our collaboration in this new capacity"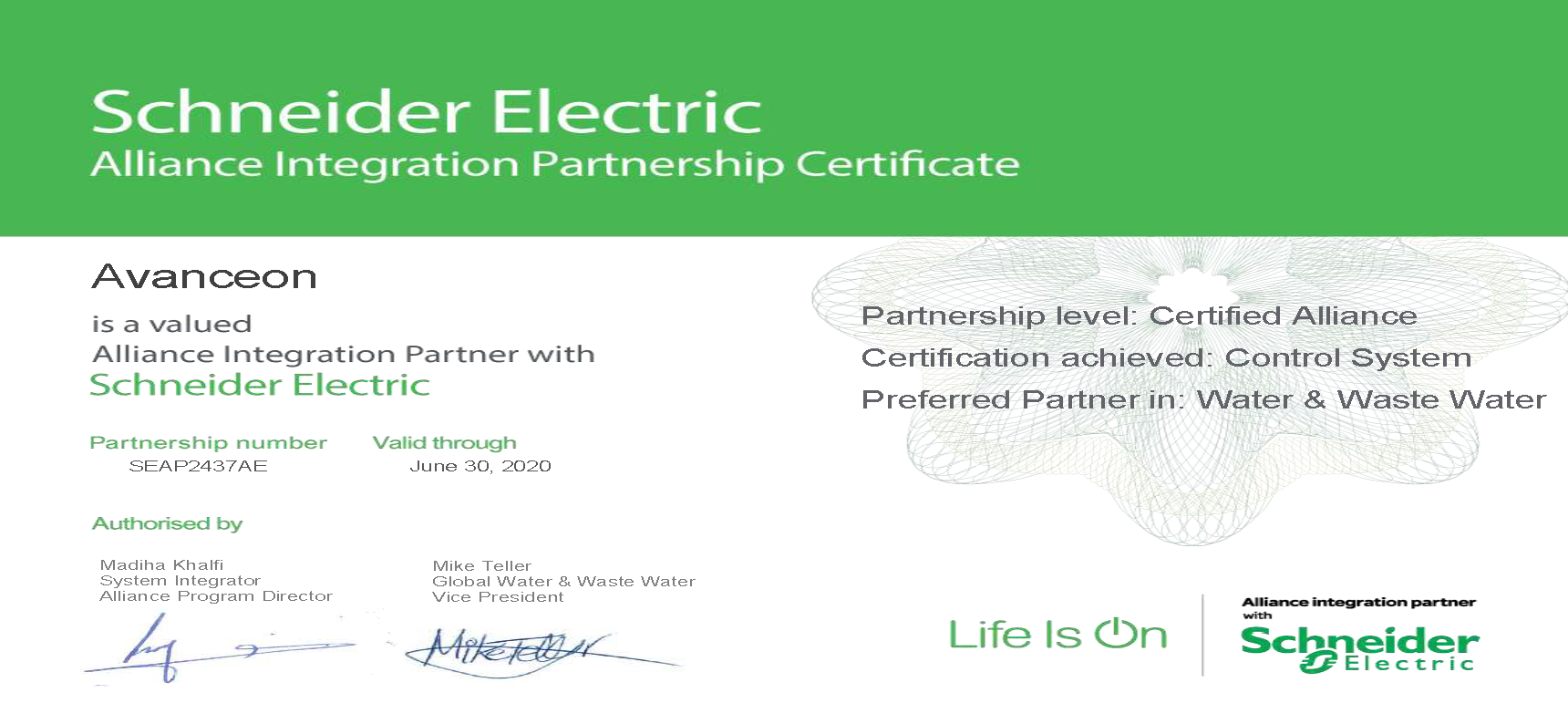 —End of News Release—
About Schneider Electric – At Schneider, we believe access to energy and digital is a basic human right. We empower all to do more with less, ensuring Life Is On everywhere, for everyone, at every moment. We provide energy and automation digital solutions for efficiency and sustainability. We combine world-leading energy technologies, real-time automation, software and services into integrated solutions for Homes, Buildings, Data Centers, Infrastructure and Industries. We are committed to unleash the infinite possibilities of an open, global, innovative community that is passionate with our Meaningful Purpose, Inclusive and Empowered values. www.se.com
About Avanceon – (PSX: AVN) – Avanceon is an industrial automation consultation and system integration entity in Pakistan, Qatar, UAE, KSA and United States. The company follows an ethical, proactive and sustainable approach to business. As a leading innovator within the automation industry Avanceon provides state of the art automation solutions on three continents.
Established in 1984, Avanceon is committed to providing engineering excellence to its clients and partners. Providing end to end solutions, which include Design, Supply, Engineering, Installation, Testing, Commissioning and Maintenance, Avanceon's executive management has extensive experience and insight within the automation and system integration industry.
Find out more about Avanceon at www.avanceon.qa
Talk to us about our Innovative Solutions at marketing@avanceon.qa
---