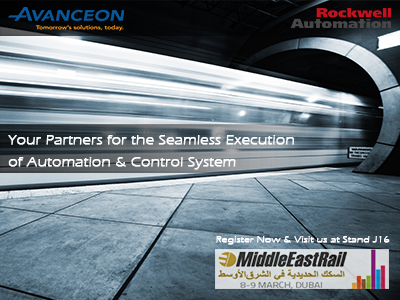 The Dubai Metro safety solution experts invite a selected expert audience for an evening of networking and refreshments
Dubai, UAE. Rockwell Automation[NYSE: ROK] and Avanceon [KSE: AVN]  announce co-sponsorship of this year's leading regional transport conference and expo, Terrapin's Middle East Rail 2016. This year's event, held at Dubai World Trade Centre on 8th and 9th March, will showcase their high calibre regional projects together, including the Dubai Metro network and ongoing infrastructural developments in Lusail City, Qatar. The industry leading infrastructure and automation partners expect a busy conference, especially with Expo 2020 looming in the near future. During the exhibition, these innovative companies will educate attendees about the essential safety solutions they have installed across numerous rail, transport and infrastructure projects.
The global automation companies who have implemented the Tunnel Ventilation System [TVS], the Environmental Control System [ECS] and the Emergency Shutdown System [EDS] for the red and green lines of the Dubai Metro will present Avanceon's seamless solutions combined with Rockwell Automation's state-of-the-art technology, SIL-2 Application.
"We invested over 83,000 man hours bringing the Dubai Metro to life; our biggest project of its kind to date and certainly one very close to the heart of this truly vibrant region," said Bakhtiar H Wain, Avanceon CEO, recalling March 2008. "I'm proud of the high safety and ventilation specifications we implemented across this landmark network, it means that commuters can breathe easily." Avanceon's bespoke engineering design relates closely to the Rockwell Automation SIL-2 redundant ControlLogix system, the backbone of world class automated safety systems.
"Our Controllogix system is built into the very foundations, a key factor in providing safer control of temperature regulation and quality of air inside the tunnel infrastructure," said Neil Enright, Regional Sales Director, Rockwell Automation Middle East. "We provide centralised situational awareness by monitoring of life critical equipment during an emergency such as a fire."
Visit their stand J16 at the Middle East Rail 2016 exhibition, Dubai World Trade Centre on March 8th and 9th 2016. They are also co-hosting a prestigious evening cocktail ceremony following the gala dinner.
For full information around the event visit: http://avanceon.ae/events/middleeastrail2016 and http://www.rockwellautomation.com/en_MDE/events/middle-east-rail/overview.page
Terrapin Middle East Rail 2016 official event page: http://www.terrapinn.com/exhibition/middle-east-rail/C59924.stm
Media Coverage
Rockwell Automation, Avanceon to showcase GCC Rail Projects
Rockwell Automation and Avanceon to Co-Host VIP at Middle East Rail 2016
Rockwell Automation, Avanceon to showcase GCC Rail Projects – GCC Construction online
Technology to Boost GCC Rail Construction
– Ends –
Avanceon is a global provider of sustainable smart solutions and support services for automation, control systems integration, proprietary energy management and plant information management systems. Ensuring customer satisfaction through quality project delivery and employing the latest technologies, including virtualization, the Select Certified Member of the Control System Integrators Association leads the way towards seamless execution of automation solutions. Avanceon is listed on the Hall of Fame of the Control Engineering Magazine's System Integrator.
Rockwell Automation, Inc. (NYSE: ROK), the world's largest company dedicated to industrial automation and information, makes its customers more productive and the world more sustainable. Headquartered in Milwaukee, Wis., Rockwell Automation employs approximately 22,000 people serving customers in more than 80 countries.
http://www.rockwellautomation.com
Media Contacts
Miki Hirasawa Ashton
Head of Marketing
Tel: +971 561742931
Email: mhirasawa@avanceon.ae
Neil Quadros
Field Marketing Specialist – Gulf, KSA & Near East
Tel: +971 2 694 8100
Email: nquadros@ra.rockwell.com