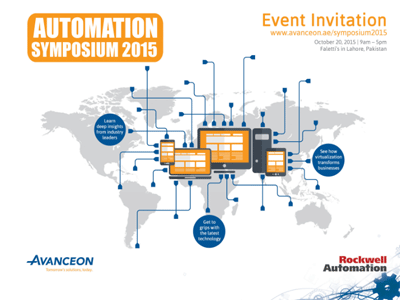 In the mid of October, Rockwell Automation and Avanceon are pulling together a compelling series of workshops and demonstrations to showcase virtualization in real business terms. The interactive demonstrations and panel discussions launching under the banner of "Tomorrow's Automation, Today" kick off a series of large-scale events over the next few years aimed at educating and inspiring existing and future customers.
Invited attendees will leave the day equipped with scalable solutions to drive their future business, as the ultimate goal from the organizing committee is to educate today, activate tomorrow, armed with a raft of useful real business case studies.
Industry issues covered will include panel discussions on  "Emerging Trends in Automation" and "What can go wrong in an Automation Project" as well as presentations on "The Connected Enterprise" and "Virtualization" along with several breakout sessions and insights shared from leading industry figures at Engro http://www.engro.com/  amongst others.
This event will be held on Tuesday 20th October 2015 in Lahore, Pakistan. For more details or to request an invitation please send us an email on symposium2015@avanceon.ae